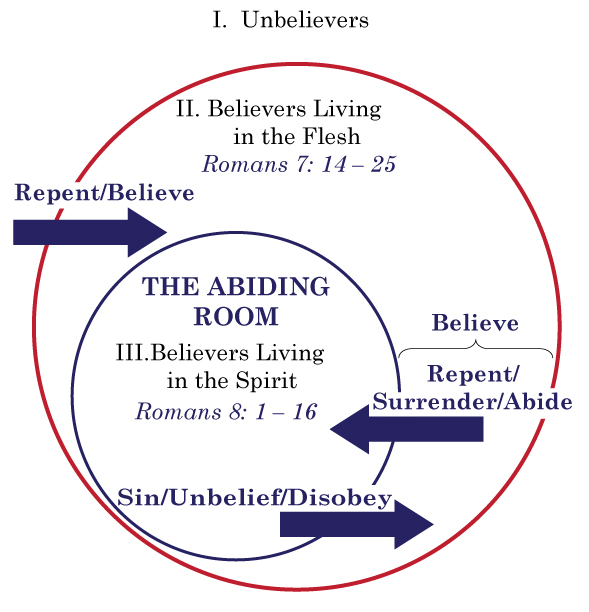 Romans 7:14-25
"We know that the law is spiritual; but I am unspiritual, sold as a slave to sin.  I do not understand what I do. For what I want to do I do not do, but what I hate I do.  And if I do what I do not want to do, I agree that the law is good.  As it is, it is no longer I myself who do it, but it is sin living in me.  For I know that good itself does not dwell in me, that is, in my sinful nature. For I have the desire to do what is good, but I cannot carry it out.  For I do not do the good I want to do, but the evil I do not want to do—this I keep on doing.  Now if I do what I do not want to do, it is no longer I who do it, but it is sin living in me that does it.
So I find this law at work: Although I want to do good, evil is right there with me. For in my inner being I delight in God's law;  but I see another law at work in me, waging war against the law of my mind and making me a prisoner of the law of sin at work within me.  What a wretched man I am! Who will rescue me from this body that is subject to death?  Thanks be to God, who delivers me through Jesus Christ our Lord!
So then, I myself in my mind am a slave to God's law, but in my sinful nature a slave to the law of sin."
Romans 8:1 -16
"Therefore, there is now no condemnation for those who are in Christ Jesus, because through Christ Jesus the law of the Spirit who gives life has set you free from the law of sin and death. For what the law was powerless to do because it was weakened by the flesh, God did by sending his own Son in the likeness of sinful flesh to be a sin offering. And so he condemned sin in the flesh,  in order that the righteous requirement of the law might be fully met in us, who do not live according to the flesh but according to the Spirit.
Those who live according to the flesh have their minds set on what the flesh desires; but those who live in accordance with the Spirit have their minds set on what the Spirit desires.  The mind governed by the flesh is death, but the mind governed by the Spirit is life and peace.  The mind governed by the flesh is hostile to God; it does not submit to God's law, nor can it do so.  Those who are in the realm of the flesh cannot please God.
You, however, are not in the realm of the flesh but are in the realm of the Spirit, if indeed the Spirit of God lives in you. And if anyone does not have the Spirit of Christ, they do not belong to Christ.  But if Christ is in you, then even though your body is subject to death because of sin, the Spirit gives life because of righteousness.  And if the Spirit of him who raised Jesus from the dead is living in you, he who raised Christ from the dead will also give life to your mortal bodies because of his Spirit who lives in you.
Therefore, brothers and sisters, we have an obligation—but it is not to the flesh, to live according to it.  For if you live according to the flesh, you will die; but if by the Spirit you put to death the misdeeds of the body, you will live.
For those who are led by the Spirit of God are the children of God. The Spirit you received does not make you slaves, so that you live in fear again; rather, the Spirit you received brought about your adoption to sonship. And by him we cry, "Abba,Father."  The Spirit himself testifies with our spirit that we are God's children."
Abide in Christ
HELPING CHRISTIANS TO GLORIFY GOD BY
SURRENDERING TO THE FATHER'S WILL,
ABIDING IN JESUS, THUS BEING
FILLED WITH AND
LED BY THE HOLY SPIRIT.
HOW TO BE FILLED WITH THE HOLY SPIRIT
Walk through scripture and a visual demonstration of what it means to be filled with the Holy Spirit.
3 LEVELS OF LIFE
Three levels of living. How to have a life of peace & enjoy God's blessings and experiencing God and the Holy Spirit in a way that you are "Filled with the Holy Spirit".
PRINTABLE BOOKMARK
Print a Bookmark that will assist your walk through the 3 Levels of Life.
ABOUT ABIDING ROOM
Whether you are discipling others, or learning how to grow (that's all of us!) The Abiding Room study will reveal the secrets of staying in touch with Christ daily, the filling and empowerment of the Holy Spirit, and bearing "MUCH" fruit in the lives of others.  The presentation is set-up to give you a "ready-made" tool to share with others in a discussion,  and to use in your own personal study.